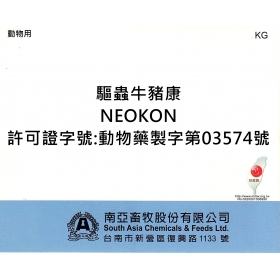 Name
NEOKON
Composition
Performance and Adaptation
Cattle, pigs, horses and other livestock : treatment fot parasites
Dosage
1.Cattle louses, hog louse: 125-250 fold dilution, spray or rub whole body 1~2 time, once for cattle is 3 liters and for hog is 2 liters.
2.Cow tickes: 15~200 fold dilation, rub tail or whole body, wash livestock's house utensil.
3.Swine scabies: 50~100 fold diluted solution, rub or spray whole body and livestock house, repeat at 5 day intervals until healed.
Package
1KG
http://http://amdrug.baphiq.gov.tw/Animal/MedLicContent.aspx?k1=1&k2=03574