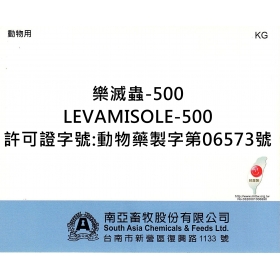 Name
LEVAMISOLE-500
Composition:
Each kg contains:
Levamisole Hydrochloride 500gm
Lactose 500gm
Performance and Adaptation
Swine: Treatment for Ascaris, Oesophagostomum Hyostrongylus Trichuris, Metastrongyloides infection chicken (ex: layer): Treatment for Heterakis, Ascaris, Capillaria infection.
Dosage
Swine: Dissolve 1 g in drinking water, for each 100 Kg body wt.
Chicken: Dissolve 40-50 g in 100 liters of drinking water.
Package
1KG
http://amdrug.baphiq.gov.tw/Animal/MedLicContent.aspx?k1=1&k2=06573