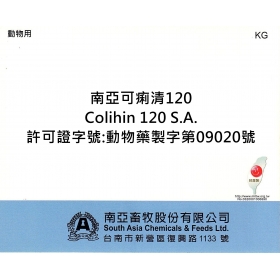 Name
Colihin 120 S.A.
有效成份
Each gm contains
Colistin Sulfate 120 mg (potency).
(1 mg=30000IU)
Performance and Adaptation
Swine, calf (below 3 months of age): gastro-intestinal infection caused by E.coli and Salmonella.
Dosage
Poultry: 50 mg per Kg B. wt. per day.
Dissolve in water and continuously use for 5~7 days orally, administrate immediately.
Package
1Kg
25Kg
http://amdrug.baphiq.gov.tw/Animal/MedLicContent.aspx?k1=1&k2=09020