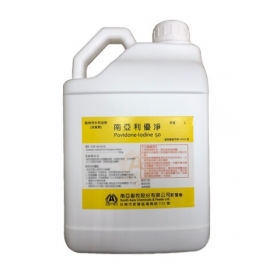 Name
Povidone-Iodine50
Coposition
Each ml contains Available Iodine (For Povidone Iodine) 5mg
Performance and Adaptation
Use for elimination of germ on nipple by washing and spraying, disinfection of milking worker's hand.
Dosage
This product can be used immediately without dilution
1. nipple bath: in the milk after the moment, the nipple bath in the product.
2. Nipple spray: After the milk, immediately use this product spray on the nipple.
3. Breast cleaning: available diluent (75CC solution plus 4 liters of water) disinfection of water to clean the breast.
4. Milk workers hand disinfection: milk before the use of dilution (75CC of the solution plus 4 liters of water) to do hand bath disinfection.
Package
1L
5L
18L
http://amdrug.baphiq.gov.tw/Animal/MedLicContent.aspx?k1=1&k2=08895